Additional content added to Internet Marketing Tips That YOU Could Use to Get Prospects June 22, 2018.
All of us marketers are always on the lookout for internet marketing tips.
There are a lot of ways to make money online, but nothing compares to internet marketing.
Internet marketing has been around for a long time now and is growing with time.
Marketing products on the Internet isn't as easy as it sounds, because you need to give utmost dedication to it.
You can't just get into internet marketing and start making money; it takes time to learn how it works.
You are about to read a few internet marketing tips that will help you succeed.
As an online marketer, you have to find fresh ways to get more conversions before you get sales.
So it's not just about getting traffic to your site, but you also need to know how to convert  it into sales.
Internet Marketing Tip – Videos
Although you can go about this in many different ways, the increased popularity of video marketing has allowed it to be a method that is wonderful for promoting to prospective customers.
Videos are becoming a powerful force on the internet and many people, including online marketers, are taking note of it's real worth.
Internet marketers are using video marketing to get traffic to their sites and blogs.
But,  you can be a step ahead and use videos on your sales page to talk about the product you're selling.
You can either have this video accompany your sales letter or you can completely replace your sales copy with it.
The reason videos work great when it comes to selling is they are more personal and approachable than just plain text.
When the videos on your site are able to show your customer the advantages of owning a certain product, it's much easier to sell them the product.
When the customer is viewing and deciding upon your product, seeing and hearing about it makes the experience seem much more real and are more likely to buy.
There will be times when customers will want to watch your videos and not read your long, or even short sales presentation.
Also, if your video really gets their attention, most of your customers will watch it all the way to the end.
Many top Internet marketers are successfully using videos to pass on their sales message. What's stopping you?
Internet Marketing Tip – Emails
Internet marketers know that email lists are essential to success.  You must start growing your own list.
You must keep your emails out of your prospects' spam filters. Your emails are going to take time to develop, and it would be a shame to have them turn up in the prospect's spam box.
2. Stay away from certain key words if you want to avoid your emails ending up as spam. Nowadays there is really high end technology to stop spam and ISP's are very strict in making sure that unsolicited mail doesn't make it through.
You might have good intentions and you might be doing everything correctly, but if you say things like get rich quick or earn lots of money, you could end up as spam.
Use the search engines to find those keywords most marketers never touch.  Do this by using a Google search for "spam keywords to avoid."  Learning those words will lessen the chance that spam filters will hinder your success.
You could go to the internet discussion boards nnd inquire of other internet marketers what words to stay away from.|
Below is a list of keywords that you should not use in your emails headline.
Aim to get into your customer's inbox with little effort.
Study a little bit before you start developing your emails. Research the keywords that people are searching for online. Pick a keyword phrase of 3 or more words. Use this long tail keyword in your headline.
Google Search can be used to find long tail keywords. Type into the search bar the keyword you want to use. It will come up with the results telling you how many people are searching for it.
Next go down to the bottom of the Google Search and in blue their will be additional long tail keywords that Google is suggesting as alternative searches.
Though there's no guarantee that your email will go through, you can do your part to ensure its success on its journey.
Each Internet Marketer has one main goal: to make as many sales as he or she can.
Every Internet marketer knows the value of building an email list of targeted subscribers, but many of them fail to leverage their list and get returns from it.
There are many reasons why this is the case, but the number one reason that reduces the chance of properly using your email list is the way that you approach it.
First, you must realize that your list has the potential to lay a lot of golden eggs.
The more that you provide your email list with quality info, the greater your chances of making money from it.
But when you get over zealous and hit your subscribers over the head with too many offers, you are killing the magical potential of your list.
Understand that you have to do more than build an email list.
The next step is to provide info, but only send out so many offers.
The info that you provide your subscribers must be of quality, solve their problems and show them that you care about them personally.|
It makes them think that you are a helpful person that wants to find a solution to their problems.
Once they see you as someone they can trust, they will like the offers that you recommend.
It's a win-win situation. There's something for everyone.
But you have to make sure that for you have to give lots of good, worthy information and minimize the offers you send them.
For example, send a tip 8 times a month and an offer twice a month. This is called the 80/20 rule. You post 80% content of value and 20% content promoting you product.
You will have to do plenty of testing in order to determine what makes your subscribers happy.
You must develop copy that works if you want to be able to sell a lot of products.
Internet Marketing Tip – Traffic Generation
Before you can make any sales, though, you need to understand the ins and outs of traffic generation.
Not just any traffic but targeted traffic that converts to sales.
While there are tons of different ways to generate traffic for your websites, pay per click (PPC) marketing is the quickest and simplest way to send visitors to your site.
A good PPC is worth its weight in gold.
GET LEADS WITH FACEBOOK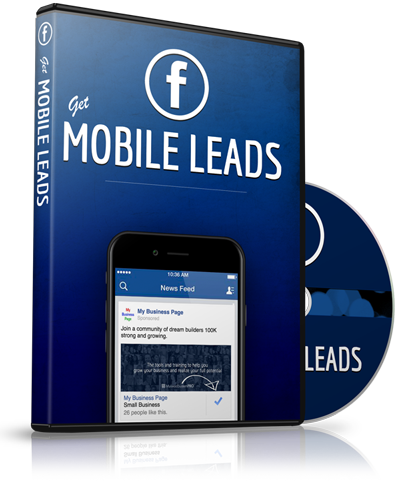 FREE TRAINING: 95 Min. Video Exposes how Anyone Can Get .25 Cent Leads for ANY Business with FB Mobile Ads Platform.
PPC is also known as pay per view.
Caution:  it's easy to waste money with PPC because you are billed for every click you get.
To make your PPC campaign a success, all of those clicks need to result in a sale or a lead.
To truly achieve this, you need to make sure that you don't dive headfirst into PPC without first doing some research.
It's important to go slowly and carefully or you could mess up your system.
Step 1.  Determine if you have enough money to get into PPC.
Step 2.  Know that you will lose some money in the beginning if you don't have a lot of experience.
Step 3.   Try out at least a couple of campaigns to see how well they convert to sales before you spend a bunch of money.
Once you see which campaign performs the best for you, you'll know where to invest your next campaign.
Step 4.  Go slowly in the beginning with PPC . You don't want to rush into anything with PPC.
Step 5. Do just one PPC  campaign at a time.
Internet Marketing Tip – Know Your Competition. 
With any business, you are likely to encounter lots of people competing against you, and that goes especially for internet marketing.
No matter what products you're offering, and it doesn't matter the niche, there will constantly be competition.
You can either withdraw or shrink away from those competitors or you can choose to be resilient and keep learning as you go.
Study your competition,and you'll make it in this business before you know it.  Learn from your competitors.
If you're going to become an internet marketer, you have to understand that the internet changes all the time.  Stay current.
When you understand how your competitors operate, you'll be able to avoid simple blunders and you'll be able to operate effectively.
Don't just copy what others are doing or try to cheat them.  Rather, analyze them and try to see why they're doing what they're doing.
You will always have competition so you should just accept it and learn from their mistakes and your own mistakes.
If you want to find success, you must take a good long look at your competition.
You may feel at times that the competition is too fierce when it comes to internet marketing, but just wait and that will change.
When you study what your competitors are doing differently, you'll see what mistakes you're making.
If you can pinpoint the common mistakes that most internet marketers make, you will do the right things and your business will experience longevity.
If you want to be successful at internet marketing, you have to develop a system for being better than the competition.
Being an Internet marketer, sometimes it gets difficult to actually stay ahead of your competitors, given that the World Wide Web is huge.
For example, send a tip 8 times a month and an offer twice a month. This is called the 80/20 rule. You post 80% content of value and 20% content promoting you product.
Tips on your unique selling point:
The only way to handle this is to devise your own unique selling point (USP) so that you will always be unique from other competitors.
Not only should your USP be about what you are selling, but also about how you plan to introduce it and advertise it.
For example, if you're promoting a weight loss eBook, find out what makes it different from the other weight loss products that are out there.
Once you discover that unique difference, market it forever.
You must realize that becoming successful internet marketer takes time and effort.
You must be consistent and you have to work steadily until you find success.
The longer you put off your efforts, the longer it will take for you to succeed.
For that reason, learn what to do and then do those things properly, while avoiding common blunders, and you'll succeed.
Being a successful internet marketer takes hard work.
It's all about taking the right risks if you want to find success.
Internet Marketing is a field that never ever sits still.
There are new techniques and money making strategies being developed every day.
This is why it's important for you to keep yourself updated with the latest changes happening.
You can easily keep track of the industry by subscribing to newsletters, RSS feeds, blogs, etc.
Keep your eyes on product launches and new services being introduced so that you know where you're going.
You need to keep gathering information so that you will be able to keep going up levels in your field.
You must develop copy that works if you want to be able to sell a lot of products.
Creating a sales letters or video:
Your sales letter or video is doing your selling job for you, which many  marketers don't realize.
What a sales letter does for you is amazing because it acts like your 24/7 salesman who's constantly at work.
Before you actually jump into creating a sales letter, you should be clear about one of the most important elements, which is the headline of your copy.
Your headline must instantly grip your reader and pull them in or your entire letter fails.
You have to spend extra time on carving out a good, high converting headline, so that people get interested and read the rest of the copy.
In order to have long term success in internet marketing, you have to recognize that your customers are valuable.
Once you realize the value that your customers provide, you will learn how to use this to your advantage time and time again.
But in order to take advantage of this value well into the future, you have to first create your subscriber list?  a new term!
Secondly, your first sale is crucial because if your customer was satisfied, he/she would think of buying again from you.
But if you make a mistake with the first sale, it will be very hard to get him to buy anything else from you.
A business versus a hobby:
Always take your Internet marketing business seriously and don't treat it as a mere hobby project.
Many new marketers view their online businesses as fun projects and in error never really treat them like real businesses.
This only makes your road to prosperity even longer, which is another reason why you should take your internet business as serious as any other successful business.
Marketing products on the internet takes learning the steps to take and then following through with them.
Internet marketing isn't something you can just work at one time and then go, as you'll need to continuously put in effort to grow the business.
The more effort you put into making this journey worthwhile, the higher will be your chances of success.
The success you see with your internet marketing venture depends on how you use the resources available to you to help your business expand.
What's Really Simple Syndication, RSS?
Do not forget to use your own RSS feeds to reach wider audiences.
RSS or Really Simple Syndication is fast catching up with everybody, since it offers a hassle free way to stay updated about any topic of your choice.
This means that you need to make it easy for people to subscribe to your RSS feed–in every place that it is used.
If you hope to be successful at internet marketing, you must realize that it's all about giving as much as possible to the customer.
The idea is to sell to them and then continue to provide customer service so that they'll buy from you again.
The website traffic that you get has to be a specific group.
Don't use the services of those that claim they can get so much traffic to your website for a particular amount of money.
You want visitors who are actually interested in what you're offering, not random people who have no interest.
Finally, online marketing can be a great answer to your problems if you are trying to get away from the regular job world.
So, c'mon aboard and don't look back.
In conclusion, internet marketing isn't all that hard once you realize what you should do.
These tips should help you understand how to approach your marketing ventures so that you succeed.
In summary, the tips that we discussed in this article work in real time, which means they actually give you results when you apply them.
Why are you waiting to start your Internet Marketing journey when you can use these tips to help you get started?
All in all, internet marketing isn't something you can just start and become good at, but it's not hard either once you know what to do.
|Just remember that the more you work at it, the more you'll learn to avoid mistakes, and that's when the money will start coming in.
One of the good points about internet marketing is that it is easy for anybody with a computer and internet connection to get started.
 If you found this post Internet Marketing Tips That YOU Could Use to Get More Prospects to be useful to you please share it with your friends on Facebook.
Other posts that you may find helpful:
 If you found this post Internet Marketing Tips That YOU Could Use to Get More Prospects to be useful to you please retweet it on Twitter.