Every blogger needs to learn Blog Search Engine Optimization to have their blog posts rank in search engine searches.
You do want more people to read your blog, right?
Before you begin to write your blog post, decide on what keyword phrase will best describe what you are writing about.
I use a keyword search tool. To learn more about long tail keywords and keyword tools  Tap Here.
For this post my keyword phrase is Blog Search Engine Optimization. 
Blogg Search Engine Optimization – Blog Title
Your keyword must be included in the title of your blog post. Your title should be at least 50 characters and not exceed 60 characters. I use LetterCount.com to count my characters.
When I created the title for this post I began with my keyword phrase. I wanted to use the words Google Ranking, but all combinations of words I tried exceeded 60 characters. I used SEO instead and my title was 59 characters.
The next thing that I do is to have my keyword phrase in the first sentence of my post. I put it in bold type so it stands out for the search engines to recognize it as a keyword phrase.
Now I can write my blog with the keyword phrase working it into the copy three to five times
Blog Search Engine Optimization – Blog Length
Short frequent blog posts are no longer favored by Google. Longer, quality posts are required now.
Back in 2016 a five hundred word blog was considered sufficient to rank in Google. In 2018 blogs with quality content with 700 words are the minimum to rank.
Blog posts of quality with 800, 1,000, 1,200 or even 1600 words or more will get better ranking in search engine results.
Once I finish my blog post draft I review it to make sure that the keyword phrase reads as a natural part of the sentence.
I will also try to find a way to put H2 Header sub-titles in the blog that include my keyword phrase. This directs the search engines to your content and ranking. You will want to include at least two H2 headers in your post that makes sense for the reader. Tap Here to learn more about H2 Headers.
You will note that in this blog post I have included my keyword phrase, Blog Search Engine Optimization, plus a few additional words in such a way that it makes sense for the reader in my H2 header.
Remember that you are writing for two entities, the search engines and your reader. You must write in such away to keep your reader engaged in your content.
Blog Search Engine Optimization – Adding Media
After I have all my content in place, the next thing I do is to insert my media (photos or graphics). When adding media, the title and the alt text must include your keyword phrase. Include the keyword phrase in your description. If you are including a caption, if possible work your keyword phrase into your caption.
GET ON PAGE #1 OF GOOGLE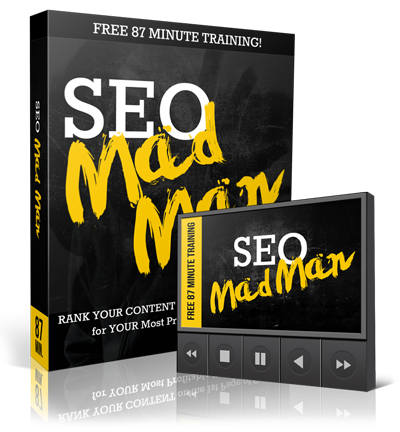 INSTANT ACCESS: 7-Figure blogger reveals his SEO secrets to Rank Your Content on the 1st Page of Google for ANY Keyword.
Google has no idea what your photo is or what it is about. It only knows what you tell the search engine crawlers in your text about your photo.
Another thing you want to do before you even upload your photo or grahic to your WordPress media library is to change the name of your file to include your blog posts keyword. For example instead of uploading img1234.jpg instead up load blog-search-engine-optimization.jpg (in the case of this post).
If you are adding video into your post for blog search engine optimization, the title of your video must include your keyword phrase. The description for your video in YouTube or any other social media video format must include your long keyword phrase in its text.
Blog Search Engine Optimization – Categories & Tags
In 2018 you only need to assign one tag to your blog post. Many people think that they are doing themselves a favor by using multiple tags. They are not. They are only creating duplicate content in the eyes of the search engines.
Decide on the category that best describes your blog post and use it only.
The next thing to do is a Google search for your keyword phrase. Scroll down to the bottom of the page to the blue suggestions. You will find related long tail keyword phrases Google thinks will lead you to additional information about the subject you are searching for.
Use Google's Suggestions as your blog post tags.
If you are using a plug in such as All in One SEO or Yost, they give you the ability to show the search engines your focus keyword.
Additionally you must add a meta description the describes what your blog post is about. Without the meta description search engines such as Google will default to the first few sentences of your post. It is best to write your own meta description telling your readers what to expect when they read your blog post.
Summary
You have researched for the long tail keyword phrase that you will be the topic of your blog post.
Written quality content using the keyword phrase 3 to 5 times in a way that seems natural in the post.
Used two or more H2 headers that included the long tail keyword phrase.
Included photos or graphics in your post inserting your long tail keyword phase in the title and alt text.
If using a video you have included your keyword phase in the about content for YouTube or any other service you used.
Assigned only one category to your post.
Added tags to your post.
Wrote a meta description about your post.
Now that you have completed all of these tasks you have one more task before you can publish your post.
The last line of text at the bottom of your body copy must contain your long tail keyword phrase. Use the title of your blog and italicize the words of the title. Look at the bottom of this post to see how I do it.
If you found this post Blog Search Engine Optimization Is Critical For SEO Ranking useful please share it with your friends on Facebook.
I spent a lot of money, time and effort to learn about social media marketing and SEO. I originally purchased separate courses that only covered one phase of what I needed to know to be successful.
If you've been trying to "get your name out there", publishing content on your website, and doing all the things "they" told you to do… but you're still not getting the kind of attention, respect , and income you desire… then you need to drop whatever it is you're doing right now and read this from start to finish.
Here's why:
Most of the things that you have been taught about how to build authority online are wrong, wrong, wrong.
And not just a little bit wrong… I'm talking DEAD WRONG.
Don't believe me? Think I'm overstating my case?
I'm not.
Check this out…
According to a study published by blogging.org, a full 81% of bloggers never even make $100 from their blog.
I probably don't have to tell you this, but $100 is nothing. You could make more money by collecting shopping carts at Costco for a day.
Think about it…A hundred measly bucks for all the blood, sweat, and tears you've poured into building your authority? That's it?
Average that over a whole year and it's just 33 cents a day. It's practically an injustice.
People in third world countries make more than that!
You deserve better.
You really do.
I tell you what, the fact that so many content creators are making basically nothing for their efforts make me absolutely crazy.
Because if you understand how to become an expert…a recongnized AUTHORITY in your niche…it's EASY to make six figures a year just from your blog alone.
I'm not even talking about speaking gigs, consulting gigs, overall the other ways you can get paid once you become an authority. Add in all those other potential income sources and you could be making 7 FIGURES a year.
I'm not kidding.
it does not matter how often or how badly you've failed in the past. You can STILL become a recognized authority in your niche and finally live the life of your dreams.
The 3-Minute Expert formula that 7-FIGURE earner Ray Higdon developed isn't based on luck and it isn't a fluke. He took his business from nothing to the 6-figure mark – and then beyond the 7-figure – in just 4 years.
The money is great, of course, but building authority isn't just about the money. It's also about…
…earning the respect of your family, friends, and peers…
…proving all those people wrong who said you'd never make it…
…getting to meet and network with high-level players you never would have met otherwise (and earning their respect, too)…
…having qualified prospects seek you out instead of you chasing them…
You too can do this will the right training. Just TAP THE BUTTON  below to begin your journey to a profitable, blogging success.
Other posts you may find helpful
3 Cons and Pros about Blogging
3 Biggest Obstacles to Blogging
If you found this post Blog Search Engine Optimization Is Critical For SEO Ranking useful please retweet it on Twitter.